In a really excellent conference, the civil service union PCS, under its socialist leadership which was re-elected for the seventh time in succession, mapped out its strategy for the next 12 months.
Bill Mullins
The PCS's 300,000 members face an unprecedented perioad of attacks from the New Labour government. These attacks were outlined by Janice Godrich in her presidential address: "With a public sector deficit of £175 billion, the government is preparing massive attacks on the public sector, with some £15 billion of planned cuts on top of the £15 billion already achieved under 'efficiency' savings".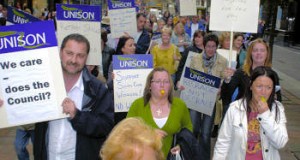 After 21 weeks of strike action, the community service workers in Glasgow have voted to accept an offer from the council to end the dispute. The deal secures an increase in pay for all workers, linked to a transfer to Glasgow Community and Safety Services (GCSS), a council owned company that provides a range of services in the city.
Brian Smith, Glasgow Unison, personal capacity
All workers will be paid a single pay point of £22,811 a year for a 35 hour week from Monday to Friday. There will be no compulsory working at the weekends. Social work management had offered a wage of £18,517 - £20,166.
Social work management also wanted Sunday working as part of the standard working week. The £22,811 won is the second top point of the pay grade that the workers demanded at the beginning of the dispute.